Covid-19 Neutralizing Antibody Test

Novel Coronavirus (SARS-CoV-2) Neutralizing Antibody Test(Colloidal Gold)
[INTENDED USE]
This kit is used for in-vitro diagnostic semi-quanti- tative determination of novel coronavirus neu- tralizing antibody in human serum, plasma, venous whole blood or peripheral whole blood, only for professional use.

The novel coronavirus neutralizing antibody is a protective antibody produced by the human body after inoculation with novel coronavirus vaccine or infection with novel coronavirus. The kit is used to monitor the presence of neutralizing antibody in subjects vaccinated with the novel coronavirus vaccine or in people infected with the novel coro- navirus, and it can be used to evaluate the immune effect after vaccination or whether neutralizing antibody are produced in human body after infec- tion with novel coronavirus
[TEST PROCEDURE]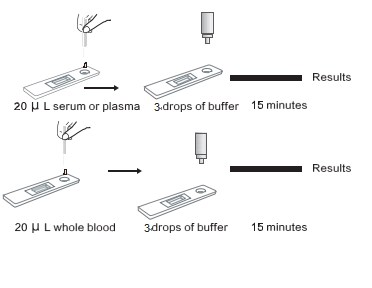 Positive : Two red lines appear. One is in the test area (T) and the other is in the quality control area (C). Negative : Only a red line appears in the quality control area (C), and no line appears in the test area (T). Invalid : No red line displays in the quality control area (C). This indicates that the incorrect operation or the test cassette has deteriorated or damaged. Repeat the test with a new kit. If the problem persists, stop using this lot number immediately and contact your local supplier
[
MATERIALS SUPPLIED
]
1.One
pouch
contains
a
test
cassette
and
a
desiccant.
The
desiccant is
for
storage
purposes
only
and
is
not
used
in
the
test
procedures.
2.Sample Diluent:1/2/5/20
/25pcs(s)
3.1/2/5/20/25 Dropper(s)
4.Colorimetric Card
5. 1 Package Insert
Note: Components of different batches cannot be mixed to use.






[CONTACT US]
For more products inquiry , distribution and other professional service, please contact in following ways!
Address:
Building 6, Electronic Information Industry Park, 2 Haiyang South Road, Chengnan Subdistrict, Rugao, Rugao, Jiangsu,226000, China.
Tel:
+86 513-80116067
Fax:
+86 513-85355050
Email:
sales@diagnosbio.com
Web:
www.diagnosbio.com